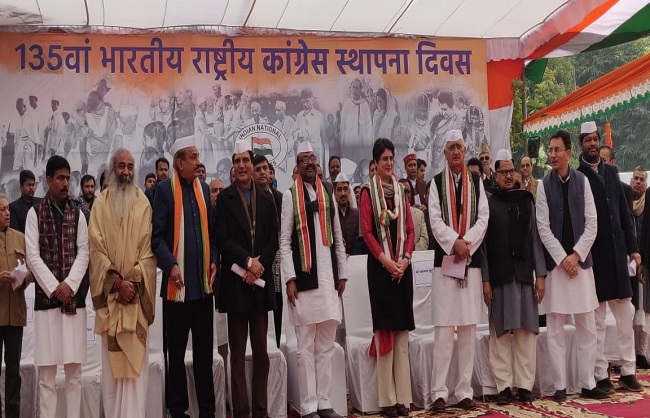 Lucknow, December 28: Congress General Secretary Priyanka Gandhi Vadra on Saturday attacked the Bharatiya Janata Party (BJP) and said her party's fight was against an oppressive ideology. She also targeted the Samajwadi Party (SP) and Bahujan Samaj Party (BSP) today by saying that both these parties are scared of BJP.
Priyanka Gandhi Vadra is in Lucknow today to attend the 135th foundation day of the Congress, she hoisted the party's flag at the party's state headquarters and administered the oath of constitution to the workers.
Addressing the program organized during this time, Priyanka Gandhi Vadra said that today the same powers are running the government in the country with which the Congress has always clashed. Without naming the BJP, she said that these powers are of an oppressive ideology.
The Congress General Secretary said that these powers did not contribute to the struggle for independence of the country but today they want to spread the atmosphere of fear in the society by becoming the biggest patriots.She said that Congress has been fighting these powers and will continue to fight even further. "Other parties including SP and BSP are scared of these powers. They cannot fight them(BJP). Only Congress can compete with this ideology, because its history is of struggle" added Priyanka.
Priyanka said that the country is in trouble at this time. There is an atmosphere of chaos all around. In every corner of the country, youth are raising their voice against the law made against the constitution. During her address, Priyanka Gandhi also termed the Citizenship Amendment Act as another form of demonetisation.
State Congress President Ajay Kumar Lallu also addressed the program. He said that today is a historical day. Congress was established on this day itself. The party was founded to raise its voice against the repressive policies of the British.
Several party leaders including former Union Minister Salman Khurshid, former state president Raj Babbar, PL Punia, Pradeep Jain Aditya, Jitin Prasad and Pramod Tiwari were present on the occasion.
Congress General Secretary Priyanka Gandhi Vadra reached Lucknow on Friday night to participate in the program. After the party foundation day function, she held a meeting with the strategic and action plan committee at the state headquarters of the Congress.Later, she then started a separate discussion with party officials.