Lucknow, June 28: The Governor of Uttar Pradesh Anandiben Patel hosted a high-tea and dinner in the honour of the President Ram Nath Kovind at Raj Bhavan on Monday.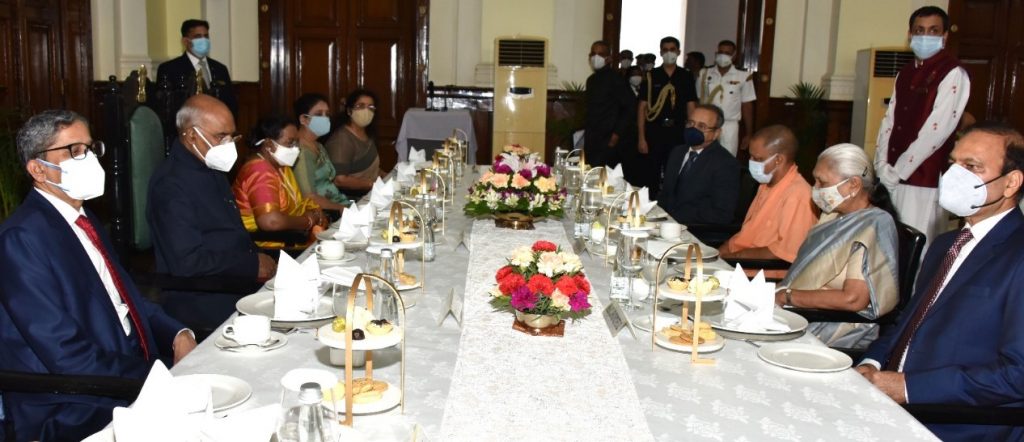 In this, Chief Justice of India (CJI) Justice NV Ramana, Chief Minister of Uttar Pradesh Yogi Adityanath, State Law and Justice Minister Brajesh Pathak, Judge of Allahabad High Court Justice Munishwar Nath Bhandari and other senior judges participated with their wives.
On this occasion a photo of all the judges was taken with the President. President Ram Nath Kovind received the introduction of the judges during the high-tea.
Governor Anandiben Patel presented a memento to the President and the CJI on the occasion. The first lady of the country, Savita Kovind, Additional Chief Secretary to the Governor Mahesh Kumar Gupta and other senior officers were present in the program.
President Ram Nath Kovind has reached Rajdhani by Presidential Express train today on a two-day visit to Lucknow. His wife and daughter are also together. State Governor Anandiben Patel and Chief Minister Yogi Adityanath welcomed them at Charbagh railway station.
From Charbagh railway station, the President directly headed to the Raj Bhavan and there he paid homage to the life-size statue of the Father of the Nation Mahatma Gandhi. The President will stay at the Raj Bhavan today.
On Tuesday, President Ram Nath Kovind will lay the virtual foundation stone of Dr Ambedkar Cultural Centre from Lok Bhavan. He will leave for New Delhi in a special flight from Chaudhary Charan Singh International Airport at around 4.30 pm.