New Delhi, 01 December: The government's talks on Tuesday with farmers' organizations opposing the three new agricultural laws proved fruitless and the farmers have announced to continue the agitation, rejecting the government's proposal to form a committee.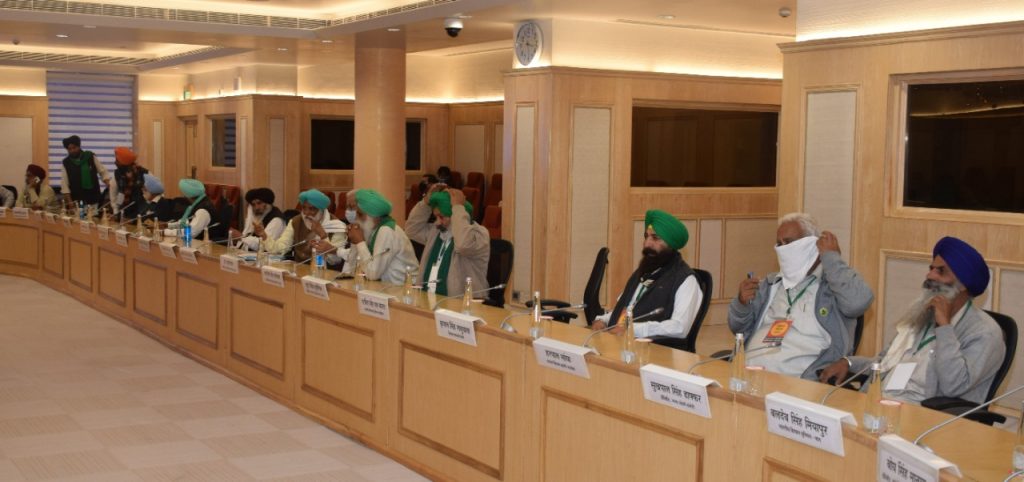 However, the government hopes that it will soon overcome the apprehensions of the farmers and this will be resolved in the next round of meeting on December 3.
Representatives of 32 farmers' organizations of the country and the government held talks at Vigyan Bhawan for about three and a half hours today.
On behalf of the government, Agriculture and Farmers Welfare Minister Narendra Singh Tomar, Commerce and Industry Minister Piyush Goyal and his associate Minister of State Somprakash attended the meeting.
After the meeting, the Minister of Agriculture and Farmers Welfare Tomar said that the two sides have reached an understanding on many issues in the meeting. The fourth phase of talks will be held on Thursday, December 3. However, farmers' organizations will also bring their issues and they will be discussed.
He said that the intention of the government was to have talks in small groups, but the farmers wanted the participation of all. The government has no objection to even talking together.
He said that there will be talks at 12 noon on December 3 and it is expected that there will be positive results.
In a meeting with the farmers, Agriculture Minister Narendra Singh Tomar proposed to form a committee before the farmers.
He asked the representatives of the farmers organizations to give 4-5 names for the committee on their own behalf and some members of the committee will also be from the government. Agricultural experts will also be included in the committee. This committee will discuss the three new agricultural laws and see what the mistakes are and steps should be taken to rectify them.
After the meeting, Chanda Singh, one of the representatives of farmers' organizations, said that with the new agricultural laws, our movement will continue in a peaceful manner and we will try to find a solution through further talks with the government.
Earlier today, at the residence of BJP President JP Nadda, Union Home Minister Amit Shah, Defense Minister Rajnath Singh, Commerce and Industry Minister Piyush Goyal had a meeting on the issue of farmer agitation.