Varanasi, 30 November: The Prime Minister Narendra Modi paid obeisance at the Kashi Vishwanath temple dedicated to the Lord Shiva on Monday on the occasion Kartik Purnima and Dev Deepavali in his constituency Varanasi.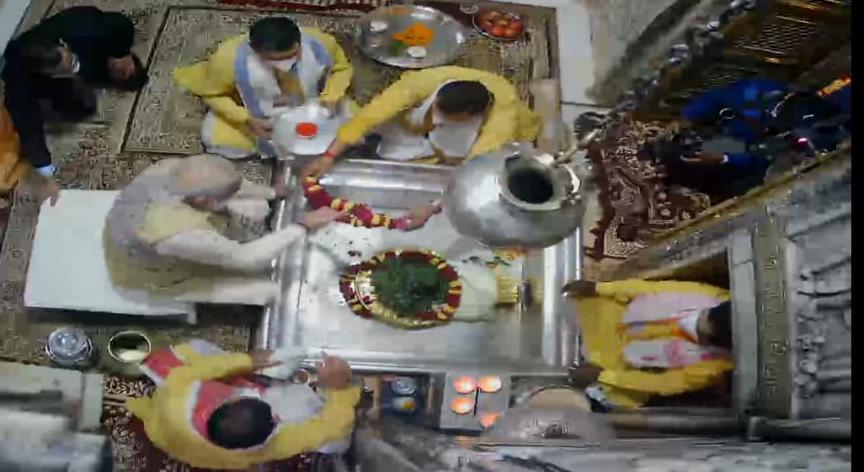 During the Corona period, the Prime Minister in the presence of four priests who recited the Sanskrit Shlokas, performed 'Aarti' after duly worshiping Baba in the sanctum sanctorum of the temple by performing 'Shodhopachar' method. He lit the lamp in the temple with full devotion.
After paying obeisance at Kashi Vishwanath temple, the Prime Minister reviewed his dream project Kashi Vishwanath temple Corridor and got information about the ongoing construction works.
The Prime Minister also saw the work going on in the corridor through a map and projector finance picture.
The Chief Minister of Uttar Pradesh Yogi Adityanath apprised the Prime Minister about the ongoing work in the corridor.
The Prime Minister kept watching the works going on in the temple premises with enthusiasm.
While walking through the temple, the Prime Minister was presented a memento, Angavastram and Prasad by the Chief Minister Yogi Adityanath on behalf of Shri Kashi Vishwanath Temple Trust and Shri Kashi Vishwanath Distinguished Area Development Council.
It consisted of 'Rudraksha', Sandalwood, 'Belpatra', 'Bhasma', Baba's picture and scarf.
Prior to this, the Prime Minister dedicated to the nation the 73-km long Varanasi-Prayagraj highway, a six-lane road, constructed at a cost of Rs 2,447 crore by the National Highways Authority of India (NHAI) at a meeting held in Mirzamurad Khajuri.
After addressing the BJP workers present there, the Prime Minister reached the temporary helipad at Dumri directly by helicopter. From here, Modi boarded on Alaknanda cruise on the banks of the Ganges.
With the Chief Minister of the state Yogi Adityanath, the Prime Minister reached Lalitaghat via the Ganges.
The Prime Minister reached the Vishwanath Corridor directly on board the vehicle.
During this time extensive security arrangements were made in the Ganges and in the corridor complex.
In the temple complex, Mahant Rameshwar Puri of Annapurna Temple, State Tourism Minister Neelkanth Tiwari and distinguished people warmly welcomed the Prime Minister.