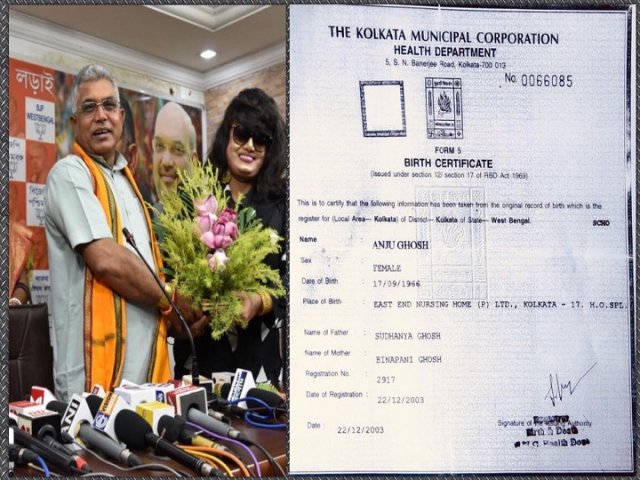 Kolkata, 6 June: Ending all doubts and confusion once and for all about the nationality of well known film personality Anju Ghosh who joined BJP at the state party headquarters here yesterday, the party today released her original birth certificates, Indian passport and several other government documents to prove her Indian citizenship 'beyond any doubt'.
In an all out effort to counter the 'false claim' of Trinamool Congress that Ghosh, who shot into an unparalleled fame and popularity following the release of a famous Indo- Bangladesh joint venture movie 'Saper Meye Jyotsna' a few years ago to become a household name since early 1980S, is a Bangladesh national and had no right to become a member of an Indian political party, BJP state Vice President Jayprakash Mazumdar here today presented a set of government documents like her Indian Passport, orginal birth certificate, issued by the Kolkata Municipal Corporation on 17 September 1966, her Aadhar and Pan cards to prove that Ghosh was indeed an Indian citizen for long as she was born in Kolkata and had been living in the city for long.
Ridiculing the claim of the ruling TMC and its leaders including city Mayor Firhad Hakim for questioning the nationality of Anju Ghosh and claimed that she was a Bangladeshi citizen and had no right to become a member of BJP or any other Indian political party for that matter, Mazumdar said before making such claim 'to confuse the general public', they should 'do some proper background work and go through all her citizenship records'.
In this connection he also criticized the role of a section of media who, according to him, published the TMC version which was absolutely false and wrong by all yardstick, without checking the facts.
'Such news has not only embarrassed Anju Ghosh, but also the party she joined and forced us to reveal the truth', Mazumdar said and claimed that like Ghosh several other leaders from the ruling party had already made a beeline to join BJP in the state after being encouraged with the resounding victory of the party(by winning 18 of the 42 Lok Sabha seats) in the state.