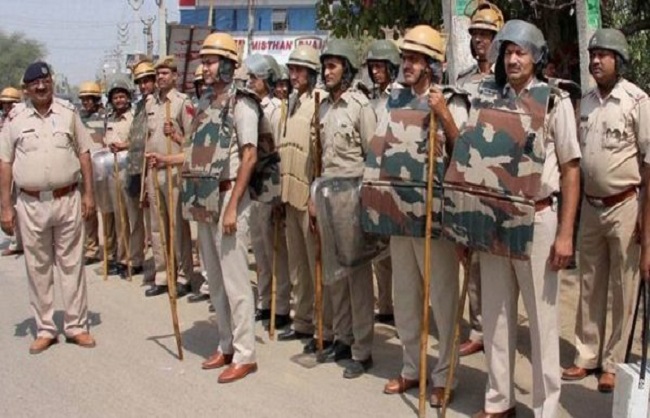 Intel inputs protests after offering Friday prayers
Foot patrolling and flag march order at all sensitive places
Mobile Internet service stopped in half a dozen cities from today
Lucknow, 26 December: The police and district administration have already been alerted to the Friday prayers on Friday, a week after the fierce protests on December 19 against the Citizenship( Amendment) Act (CAA). In view of the possibility of violence, the security system has been increased in the entire state. Along with this, strict instruction has been given from the government that no softness should be taken with the miscreants.
In Lucknow and Kanpur along with Meerut, Bijnor, Firozabad and Sambhal, the police have been instructed to be very vigilant. The police of these districts are taking all the precautionary measures in view of the Friday prayers. Mobile internet services have been discontinued in Bijnor, Meerut, Saharanpur, Agra, Firozabad, Mathura as well as Bulandshahr from today. All eyes are on the Friday prayers . During this period, the police are appealing for peace and tranquility in many districts.
DGP headquarter has issued an alert directing senior police officers to keep an eye on the important mosques and communicate with Maulana and the city Qazi. Along with this, foot patrolling and flag march have been ordered at all sensitive places. This time in addition to the police, paramilitary and PAC personnel have also been brought to safety.
Apart from this, a decision has been taken to deploy new age soldiers who have taken training in police lines. In fact, the intelligence report of the LIU has once again raised fears of protests after the prayers of Juma. Therefore, the police, having taken a lesson from last time's lapse, do not want to leave any shortcoming in the security arrangements on the Namaz this time.