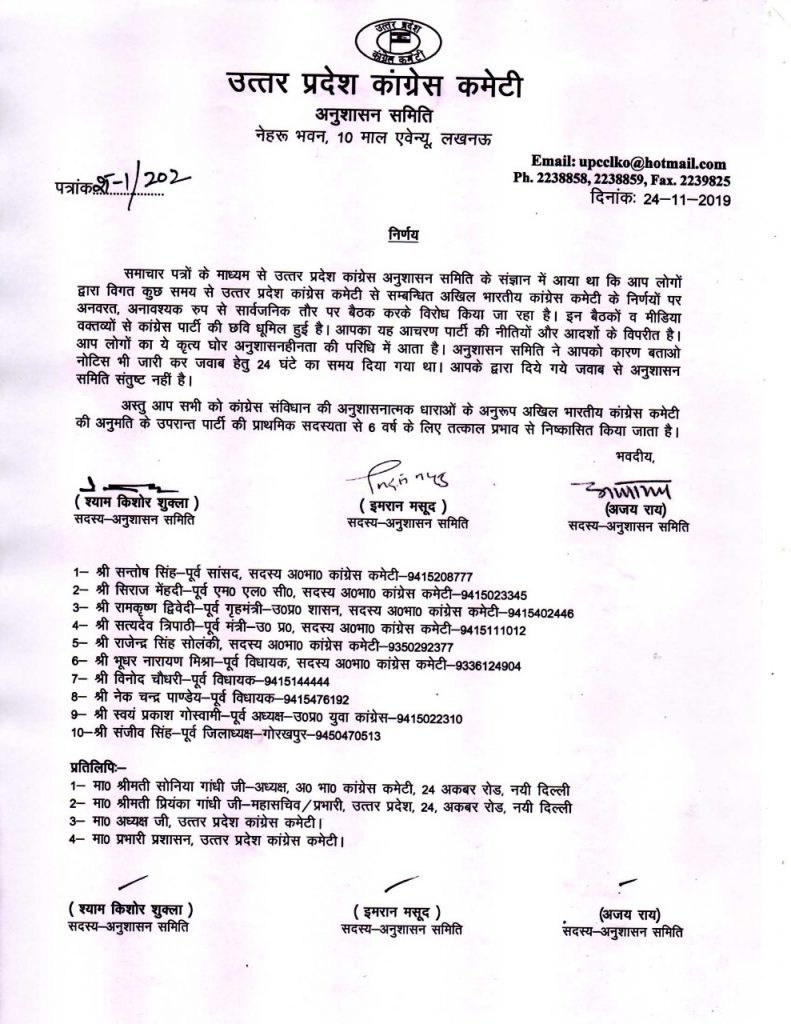 Lucknow, November 24: The Uttar Pradesh unit of the Congress, taking major action on Sunday, expelled ten senior leaders from the party. These leaders are accused of holding a meeting against the decision of the party's national general secretary Priyanka Gandhi Vadra.
As per the order of the UP Congress Committee Discipline Committee, former MP Santosh Singh, All India Congress Committee member and former MLC Siraj Mehendi, former State Home Minister Ramakrishna Dwivedi, former Minister Satyadev Tripathi, All India Congress Committee Member Rajendra Singh Solanki, Akhil Member of Indian Congress Committee and former MLA Bhudhar Narayan Mishra, former MLA Vinod Choudhary, Poor And MLA Nek Chandra Pandey, former president of UP Youth Congress Prakash Goswami and former Gorakhpur district president Sanjeev Singh have been expelled from the primary membership of the party for six years.
Actually after the reorganization of Uttar Pradesh Congress Committee, everything is not going well in the party. Due to the lack of requisite attention in the party, elderly leaders of the Congress have started going against the party-line .
Menawhile, many of these leaders had held a meeting in the house of former party MP Santosh Singh recently and discussed the future strategy. It is alleged that during this time these leaders also gave a statement against the decision of the party's National General Secretary Priyanka Gandhi Vadra. After media reports about this meeting of disgruntled leaders, the Disciplinary Committee of the State Congress Committee had issued a show cause notice to all these leaders to oppose the decisions of the party leadership and gave 24 hours time.
Discipline committee member Ajay Rai says that not all members of the committee were satisfied with the response of these rebel leaders resulting in disciplinary action against all these leaders was taken by expelling all of them from the primary membership of the party for six years.
It is worth noting that the central leadership of the Congress had recently reconstituted the Uttar Pradesh Congress Committee on October 7 and appointed MLA Ajay Kumar Lallu as state president in place of Raj Babbar. In addition, the party leadership appointed four vice presidents, 12 general ministers and 24 ministers in the state executive. The new committee of the State Congress has given more attention to the youth. The average age of the members of the new executive is 40 years. However, the party leadership has set up an 18-member Advisory Council (advisory council) and member-member working group to accommodate senior leaders and include some elderly leaders. But most of the senior leaders seem dissatisfied with the working and behavior of the party new executive. These leaders are also angry with the inclusion in the Advisory Council.