Lucknow, December 10: Priyanka Gandhi Vadra, the General Secretary of the Congress Committee and responsible for taking major party decisions regarding Uttar Pradesh, has increased the burden on the shoulders of the UP Congress Committee and state President Ajay Kumar Lallu .
Priyanka has asked all the leaders of the state including state President Ajay Lallu to participate in large numbers for the Bharat Bachao rally to be held in New Delhi.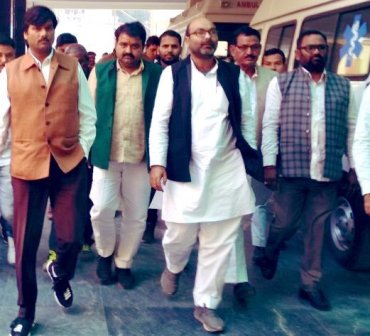 The Congress will hold a Bharat Bachao rally on December 14 in New Delhi. For this rally, big leaders of Congress are touring in different states. Recently, Priyanka Gandhi Vadra visited Uttar Pradesh. During her tour, Priyanka gave information about the rally to Uttar Pradesh Congress state president Ajay Lallu, Legislature Party leader Mona Mishra and senior leaders. At the same time, she also asked to make every effort to make the rally historic.
Being close to New Delhi from Uttar Pradesh, Priyanka is confident of a large number of workers coming to attend a rally. Priyanka has asked the leaders of western Uttar Pradesh to consider it. Directions have also been given to the state Ajay Lallu to visit and decide the number of each district. This is why Congress state president Lallu is touring continuously at this time.
Apart from Lallu, Congress leader Pramod Tiwari, Jitin Prasad, RPN Singh, Rajiv Shukla are also visiting. These leaders have been asked to go to special areas from where they will bring new old Congressmen to the rally. Small big meetings are also being held for the Save India rally, in which all the prominent leaders are reaching.
In Gorakhpur region, former state president of Congress Nirmal Khatri and in Kanpur region former MP Sriprakash Jaiswal and state president Ajay Kumar Lallu have held meetings regarding the rally. Similarly, in Varanasi, former MLA and member of the disciplinary committee Ajay Rai has held a meeting.