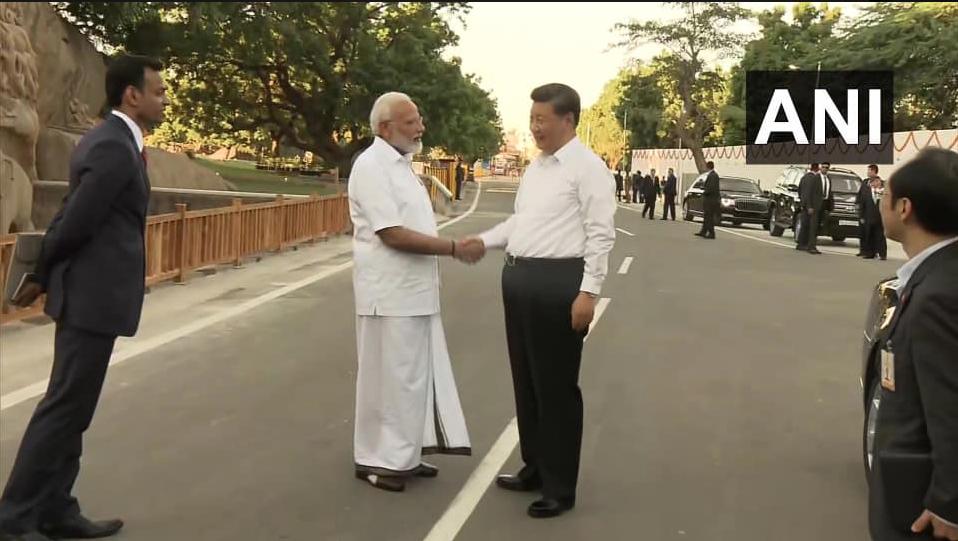 New Delhi, 11 October . Prime Minister Narendra Modi appeared in the traditional costumes of Tamil Nadu in a kurta and vesti during the reception of Chinese President Xi Jinping in Mahabalipuram. In a white dress, Modi made the guests leader to visit the archaeological sites of Mahabalipuram and informed him about the Puranic significance of each site.
There was a very pleasant response on social media about the Prime Minister's Vesti. People from South India, especially Tamil Nadu, shared the Prime Minister's picture on Twitter. Bilinguals were seen with the two leaders for language conversion. On several occasions, the two leaders were seen to understand and negotiate between each other.
During this time, both the leaders saw the monuments Arjuna tapasya, Ganga avataran, the chariots of the Pandavas and the Makhan Pind (Makhan Kanduka) of Lord Krishna based on the narrative themes of Mahabharata. Makhan Pind is a rare natural composition. Tons heavy, this ingot has survived for centuries on a small base denying gravity.
The two leaders later visited the sea-based temple, where they observed cultural events. Here President Xi Jinping was welcomed by the Foreign Minister S.K. Jaishankar and National Security Advisor (NSA) Ajit Doval. Thereafter, two leaders were also formally introduced to members of each other's delegation.