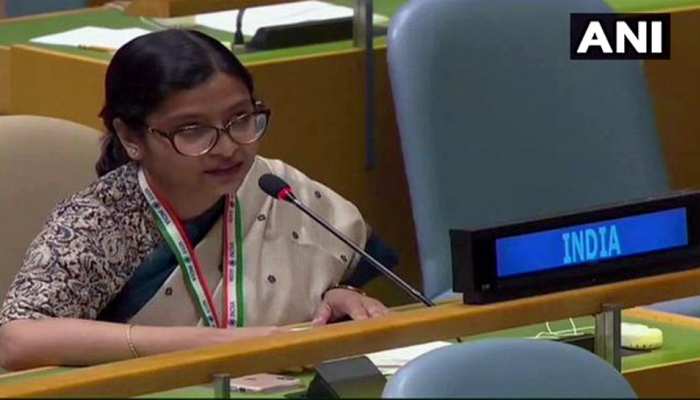 New Delhi, Sept.28 : In the United Nations, India has responded to the allegations of Pakistan Prime Minister Imran. Vidisha Maitra, India's first secretary in the United Nations, said that Imran Khan has misused the UN platform. She said that Imran Khan's speech is full of hate. Opening the poll of Pakistan, Vidisha Maitra said that whether Pakistan will accept that it is the only country in the world that gives pension to such a person, which the United Nations has placed on the list of terrorists like Al Qaeda and ISIS.

Vidisha Maitra said that Pakistan, which talks about human rights, should first see the condition of minorities in Pakistan, whose number has gone from 23 percent to 3 percent. Pakistan should not forget history and remember what they did to their people in 1971. She said whether Prime Minister Imran Khan would not like to tell New York City that he was openly supportive of Osama bin Laden.
Vidisha Maitra said, the mainstreaming of Jammu & Kashmir, as well as Ladakh, in India's thriving and vibrant democracy with a millennia-old heritage of diversity, pluralism and tolerance is well and truly underway.
India's newest member in the UN, Vidisha Maitra, blasted Pakistan, saying that the way Pakistan's PM threatens to use nuclear weapons is not the behavior of a politician, but the behaviour of a younger leader. India, while exercising its right to reply at the United Nations, said whether Pakistan can deny that 130 people living in its country today are declared terrorists by the United Nations. Can Pakistan deny that Pakistan is home to 25 terrorist organizations banned by the United Nations ?
India rebuked Pakistan for raising human rights issues in the United Nations, saying that a country that has mainstreamed terrorism and hatred wants to use its wildcard as a champion of human rights.
Vidisha Maitra while addressing to Pakistan Prime Minister Imran Khan said that the Prime Minister should understand that genocide has no place in today's democracy. He should make his blurred understanding of history a little clearer. Vidisha Maitra said that Pakistan should not forget the events of 1971. When Lieutenant General AK Niazi had perpetrated the oppression of his own citizens in Bangladesh. In 1971 Bangladesh war, General Niazi surrendered before India with 90 thousand Pakistani soldiers.
India said in the United Nations that Article 370 was an outdated and temporary provision in Jammu and Kashmir, and this was hindering the development there. Vidisha Maitra said that while Pakistan is talking about terrorism and hate, India is trying to bring Jammu and Kashmir and Ladakh into the mainstream. Vidisha Maitra said that the people of India should not give a speech to a person who has given the form of industry to terror by following the ideology of hate.