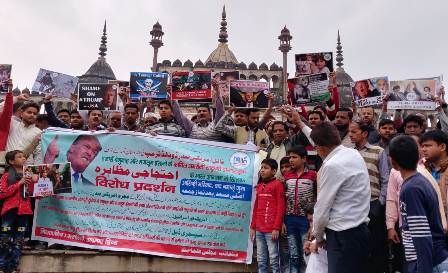 Lucknow, February 21: Protest against US President Donald Trump's visit to India has occurred on Friday under the banner of Majlis-e-Ulma-e-Hind followed by prayers at the Asfi mosque at Bara Imambara in Lucknow.
Protesters gathered in the hundreds and during the protest burnt posters of the US and its President Donald Trump.
US President Donald Trump is coming to India on 24 February. Governments of the Center and Uttar Pradesh are engaged in preparing for their reception in Agra.
Meanwhile, Maulana Kalve Jawwad also stands in support of those protesting against the tour of US president to India in Lucknow.
He said that America's policies are cruel. Due to American policies, the Gulf country is contradictory.