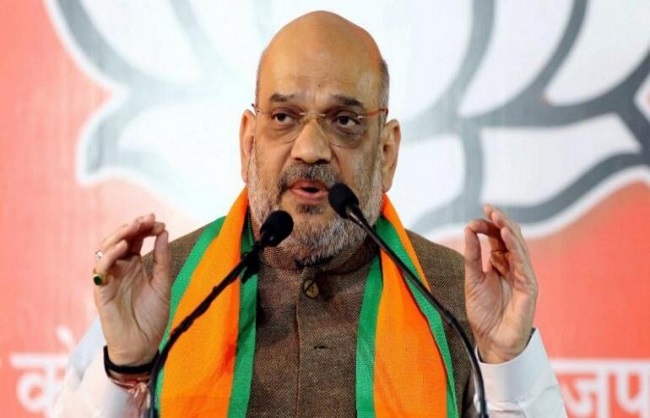 New Delhi, Sept.21: After the Election Commission(EC) today  announced the dates for the upcoming assembly polls in Maharashtra and Haryana, Bharatiya Janata Party(BJP) President Amit Shah on Saturday urged the people in both the states to re-elect the saffron party with huge majority and caste their votes in large numbers.
In a series of tweets, the Home minister said that the BJP governments in Maharashtra and Haryana had reached "new heights" of development and called upon the party workers to highlight the achievements of the ruling dispensation in both the poll-bound states.
Welcoming the assembly poll dates announced by the EC today, Shah said election is not only the "biggest festival" of democracy but also a means to keep our states and the country on the path of development and good governance.
In another tweet, Shah urged all the voters, especially the youth in Maharashtra and Haryana to vote in large numbers and participate in choosing a strong government and ensuring the development and progress of their states.
Shah further urged his party workers to ensure that BJP governments in both states are re-elected to power with huge majority.
Earlier today, Chief minister of Maharashtra, Devendra Fadnavis too welcomed the assembly poll date announced by EC calling it the "biggest festival" and appealed the people in the state to actively participate and come out in large numbers for voting.
Fadnavis stressed that only those people who would cast their votes in the upcoming elections in the state had the right to criticise the government's policies.
Supporting EC's move over prohibiting political parties to use only eco-friendly material for the upcoming state assembly polls, the Maharashtra CM also urged the people to avoid the use of single-use plastics and hoped that all political parties would adhere to this decision.
It is noteworthy that, earlier today, the EC announced the single-phase voting dates for Maharashtra and Haryana Assembly elections on October 21 while the counting of votes would be held on October 24.
With the announcement of the poll dates, the Model Code of Conduct(MCC) came into effect comes into affect in both states.