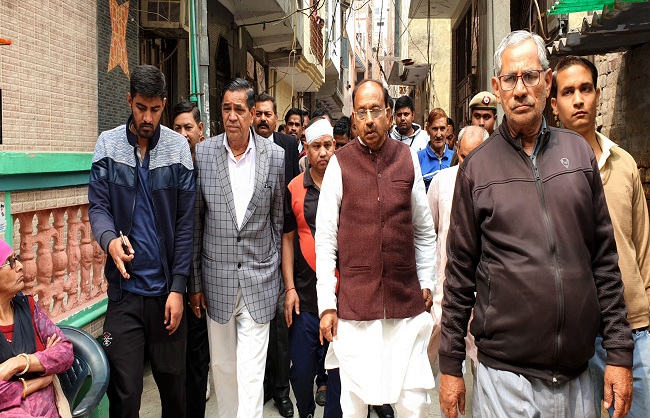 New Delhi, February 27: Former Union Minister and BJP Rajya Sabha parliamentarian from Rajasthan Vijay Goel met the parents of Intelligence Bureau (IB) staffer Ankit Sharma, who was killed in Delhi violence on Thursday.
During his visit to deceased officer's house, local MLA Mohan Singh Bisht was also present with him to pay tribute.
As soon as Goel arrived, the local people described the incidents of the riots and informed that around 200 people were injured in this riot here.
Vijay Goyal said that the people who died in communal violence in Delhi are very sad. The murder of IB officer Ankit Sharma in this violence seems to be a well-planned conspiracy. We demand its thorough investigation.
During this time, the people present there accused Tahir Hussain, Aam Aadmi Party (AAP) councilor of inciting a riot.
Goyal has demanded that early action should be taken against those who spread violence, including AAP leader Tahir Hussain.
Goel has appealed to the people to maintain peace and tranquality in Delhi and maintain brotherhood among themselves and have faith in the rules of law.
Appreciating the police and the administration, the Rajya Sabha member said that the administration is continuously doing its job in taking full control of the situation in places of violence. Such a serious situation should not be politicized.
At the same time, MLA Mohan Singh Bisht said that the way these incidents have happened, it is understood that the riots were spread in a very planned manner.