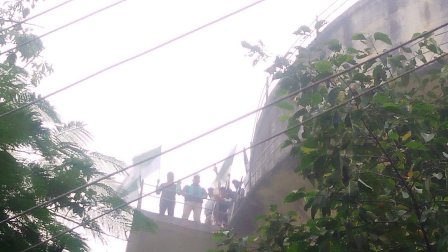 Lucknow, 04 November: Some leaders and workers of Bharatiya Kisan Union(BKU), protesting the arrest of BKU (Democratic) leader Shyamu Shukla, were mounted a water tank and demonstrated by holding flags in their hands. They threatened to commit suicide by jumping from the tank if the police did not leave Shyamu Shukla.
At around 10 am on Monday morning, some people were seen carrying the flag in their hands at the giant water tank in Dubugga area of Lucknow. These people were Arjun Singh, Manvendra Singh Navipanah, Akash Rawat, Urmila Ravatan, Ram Rawat, Kamlesh Rawat, Ramesh Gautam. Local police and fire service station personnel reached the spot for rescue work after receiving information about the leader and workers climbing on the water tank.
On the other hand, the union leaders who climbed the water tank, protested against forcefully arrest of their leader Shyamu Shukla in Sandila. He said that Shyamu Shukla has been raising the voice of farmers. If he is not left, then surely they will all give their lives by jumping under the water tank.
Seeing the union leaders climbed on the water tank, there was a situation of severe jam on the roads below. Nearby shopkeepers took care of the traffic system and started removing vehicles one by one. At the same time, information about the demonstration was given by the police station to the Additional District Magistrate(ADM) Office.