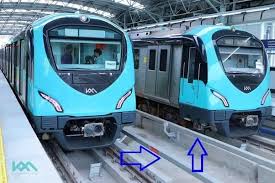 Lucknow, November 12: Overhead Electrical Equipment (OHE) lines will not be built in the East-West Corridor (Charbagh to Bansatkunj) of Lucknow Metro. In this corridor, metro train will get power supply from the tracks with new technology.
Lucknow Metro Public Relations Officer Pushpa Bellani said on Tuesday that the Uttar Pradesh Metro Rail Corporation Limited (UPMRCL) will no longer construct the OHE lines in the East-West Corridor due to technical problems coming from kite flying.
"The metro train gets stopped due to kite flying number of times as Chinese manjha( a string used for kite flying. However, The National Green Tribunal has already banned the use of Chinese manjha) touches the OHE lines. Sometimes the wires break and fall. Due to this, many times the operation of the metro has been delayed" she said.
"Therefore, UPMRC is now preparing not to construct OHE lines on the east-west corridor of Lucknow on the lines of Kanpur," Bellani informed.
The Public Relations Officer informed that the East-West Corridor will pass through Old Lucknow. Most of the kites flying activities are happened here only. Hence, there will be more problems in the smooth operation of metro in this area.
She informed that new technology will be adopted from Charbagh, part of Bansatkunj, about 11 km long. This will end the problems caused by kite flying forever. UPMRC will build a third line in the East-West Corridor replacing OHE. This line will be built along the metro track on the ground. This will give electricity to the metro. There will be no effect on hitting the kite. In many cities including Kochi, a third line is being built along the same lines.