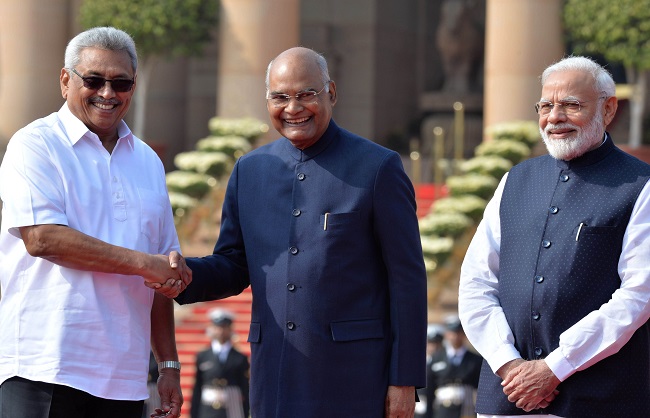 New Delhi, 29 November: President Ram Nath Kovind gave a ceremonial welcome to Sri Lankan President Gotabaya Rajapaksa at Rashtrapati Bhavan on Friday. After this, Rajapaksa went to Rajghat and paid tribute to the Father of the Nation, Mahatma Gandhi. Rajapaksa arrived in New Delhi on Thursday on his first official three-day visit.
President Kovind and Prime Minister Narendra Modi received Rajapaksa at Rashtrapati Bhavan. Sri Lankan President Gotabaya Rajapaksa was given the Guard of Honor by the soldiers of the three armies in a ceremony held at Rashtrapati Bhavan. After this, Rajapaksa also inspected the guard.
Rajapaksa later addressed the media, saying that during his tenure as President he wanted to take Sri Lanka-India relations to a higher level. The two countries have a long standing friendship. We need to work together for the economic development and security of our people.