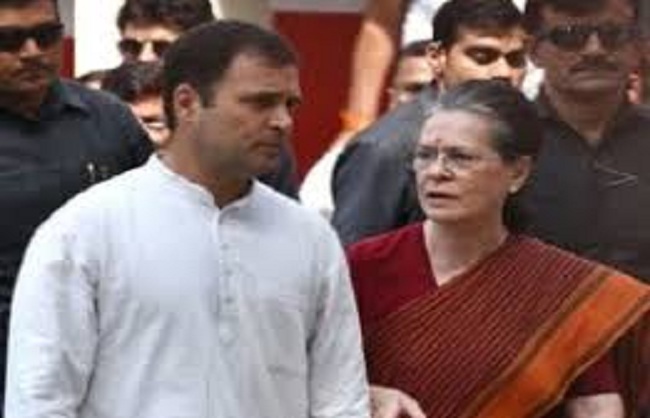 New Delhi, Aug. 10 : The endless speculations on the next Congress Chief  are expected to end today by 9pm,  Congress Chief Spokesperson Randeep Surjewala on Saturday said that  Rahul Gandhi refused to take back his resignation as the party President despite the Congress Working Committee (CWC) appealing to the outgoing president to continue to "lead and guide" the party as its chief.
Surjewala said, "The CWC appealed to Rahul Gandhi to continue his guidance in the difficult times of an incumbent government taking over all institutions of the country".
The CWC leaders said that only Rahul is eligible to be strong Opposition leader.
However, Rahul refused to take back his resignation and said that he would continue to work with workers of the party.
Earlier today, Congress member Of Parliament (MP), Shashi Tharoor tweeted soon after the first phase of deliberations of CWC on the next party president ended.
Tharoor said his decision remained the stand articulated more than a month back which was CWC must choose an interim President as early as possible, then resign and announce open elections for the post of both the President and CWC.
Earlier, today during the CWC meet, United Progressive Alliance (UPA) chairperson Sonia Gandhi left the meeting along with outgoing party president Rahul Gandhi while deliberations were held on appointing the new Congress chief.
Sonia Gandhi said she along with her son Rahul Gandhi reclused themselves from being a part of the consultation process (to decide next party chief) and left the meeting midway.
Rahul gandhi in his second resignation letter stated "it would not be right for him" to weigh in on the process of choosing his successor to the post of party chief.
The CWC meeting on Saturday was attended by UPA chairperson Sonia Gandhi, former prime minister Manmohan Singh, General Secretary Priyanka Gandhi Vadra among other senior Congress leaders to decide the successor and ideal candidate to the Gandhi scion.
After the first phase of CWC meet ended, Congress leader in Lok Sabha, Adhir Ranjan Chaudhary said the next party chief would be likely be finalized by 9pm today.
Tharoor stressed that final choice must reflect the wishes of Congress workers and must be a person, irrespective of age or gender who can both energize both the party organization and inspire the voters- especially those which did not support Congress during 2014 and 2019 general elections.
However, Congress leader Mukul Wasnik is seen among the frontrunners to the post of party chief. Wasnik is seen as a strong choice to repair the Congress's organisational weaknesses with his long administrative record. He was earlier a minister in the PV Narsimha Rao and Manmohan Singh-led governments and had closely worked with Sonia Gandhi while she was the Congress President.
It is noteworthy that, ever since Rahul Gandhi resigned as party chief two months ago, he has insisted that the next leader of the party should not be from the Gandhi family.