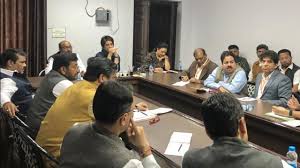 Ambuj Tripathi
ambuj.tripathi@thelucknowjournal.com
Lucknow, 06 December: Congress general secretary and in-charge of Eastern Uttar Pradesh Priyanka Gandhi Vadra reached the capital city on Friday on a two-day tour of Lucknow. On the first day, she held a meeting with senior party leaders and expressed concern over the increasing crime against women and decided that the Congress would organize a big movement in the entire state of Uttar Pradesh for women safety.
Priyanka held several meetings with party leaders at the state headquarters of the Congress. After the meeting, Congress leader Rajiv Shukla said that Priyanka has expressed concern that Uttar Pradesh has become completely unsafe for women. During the meeting she discussed the incident of burning a girl alive in Mainpuri, Chitrakoot and then Unnao. During this, she said that in Uttar Pradesh, like Hyderabad, a scandal is happening every day.
Shukla further said that during the talks with the party leaders, Priyanka said that the Congress workers of UP will take to the streets and agitate as well as pressurize the government for the betterment of law and order.
He told that Priyanka Gandhi Vadra today held a meeting with the National Students Organization NSUI team besides senior leaders of the party. NSUI National President Neeraj Kundan was also present in this meeting. Shri Shukla informed that NSUI will be further activated in UP.
Apart from this, preparations for Bharat Bachao Rally, to be held in Delhi on December 14, were also reviewed in today's meeting.
According to state president Ajay Kumar Lallu, a campaign is going on to make Bharat Bachao Rally successful in the whole of Uttar Pradesh. Congress officials in the state are continuously mobilizing the common people against the anti-people policies of the BJP through street meetings, memos and sit-ins. He said that after the review of National General Secretary Priyanka Gandhi, now preparations will get more strength.
Priyanka Gandhi's meeting was attended by state president Ajay Kumar Lallu and Congress Legislature Party leader Aradhana Mishra, besides members of the party's advisory committee, including former ministers Jitin Prasad, Rajiv Shukla, Nasimuddin Siddiqui, Imran Masood and Pradeep Jain.
Priyanka Gandhi Vadra arrived at Amausi Airport in Lucknow in the morning. She was welcomed by the party workers there. Directly from the airport, she went to the residence of former minister Sheila Kaul on Gokhale Marg. From there she reached the headquarters of the State Congress and garlanded the portrait of Dr. Bhimrao Ambedkar on the occasion of Parinirvana Day. She then attended party meetings. She will also meet the leaders on Saturday to discuss the party's strategy.