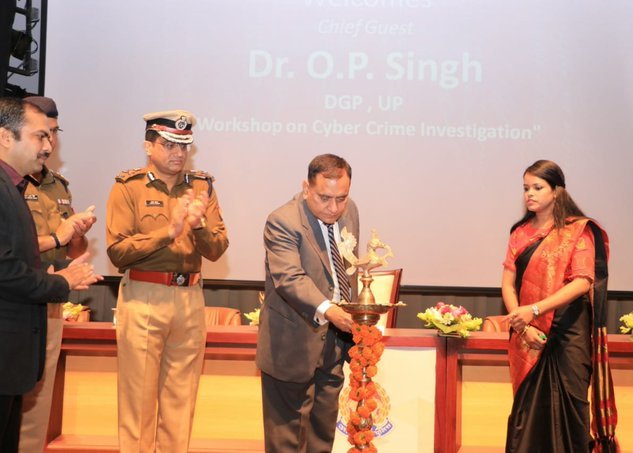 State level one day workshop related to cyber-crime organized
Lucknow, 02 December: During the workshop related to cybercrime at Police Headquarters, Director General of Police (DGP) of Uttar Pradesh OP Singh said that effective advocacy has been done in cases of Protection of Children from Sexual Offences( POCSO )Act-2012, which has resulted in the accused have been punished successfully in a very short time in all the districts of the state.
The DGP inaugurated the state-level one-day workshop related to cybercrime on Monday in the auditorium at Police Headquarters. Inspector General of Police Cyber ​​AK Singh said in his welcome address during this time that there is a plan to set up cyber units in all zones, range cyber police stations and selected 149 police stations of the state, in which cyber units have been formed in 106 police stations.
During this time, the DGP said that cybercrime is becoming a big challenge and this type of crime is also happening in Uttar Pradesh. This is why cybercrime can be stopped in an institutional manner. For this, an officer of IG rank and SP rank has been posted.
He also informed that we currently have cyber stations in Lucknow and Noida only. In the coming days, we will open cyber crime police stations in all ranges and police stations. The DGP said that cybercrime cases have been registered in Uttar Pradesh within two years and the number of arrests is also high. But still it is necessary that we increase the training further, hence the first workshop has called the experts of cybercrime. Who will educate police personnel. At the same time, we are expected to conduct such workshops in the coming days.
On the question of sentencing the accused in the rape case by the Baghpat police within five days, the DGP told reporters that for the last five and six months, he had taken seriously the cases of POCSO and made every IG rank officers as nodal officer. He himself has instructed the subordinates by meeting them through video conferencing. This is the reason that the police have played an important role in punishing the accused for life imprisonment in five days who raped his daughter in Sidharthnagar. Similarly, in Baghpat, the accused have been punished in five days. This action only shows that we have taken these cases seriously and it is being monitored from Police Headquarters.
The "Cybercrime Manual" was released during the one-day state level workshop related to cybercrime in the auditorium at Police Headquarters.