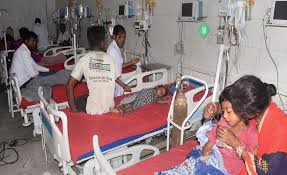 New Delhi/Patna, June 17: A complaint case was filed by a social worker, Tamanna Hashmi on Monday against Union Health Minister Harsh Vardhan and Bihar Health Minister Mangal Pandey in a court in Muzaffarpur district on charges of negligence leading to the deaths of 125 children due to Acute Encephalitis Syndrome .
At least 125 children have died in Bihar's Muzaffarpur district in the last 12 days from Acute Encephalitis Syndrome (AES). As per the health officials, the deadly brain disease is believed to be linked to a toxic substance found in lychee fruit.
Around 109 patients have been admitted to hospitals due to AES. Once infected the viral infection causes flu-like symptoms such as fever and severe headache due to inflation of the brain.
Social worker Tamanna Hashmi has written in her complaint that children have died due to lack of awareness campaign. Hundreds of children have died in the last several years due to this disease and no research has been done on this so far. Hashmi said that children are losing their lives due to negligence of the government.