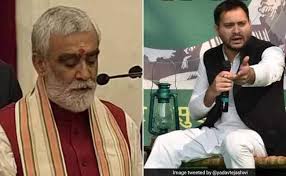 Patna ,Sep 30 : Union minister Ashwini Choubey has called "Hathiya Nakshatra" responsible for Bihar floods. He called the opposition a sin-bearer.
Tejashwi Yadav, former Deputy Chief Minister of Bihar and leader of Rashtriya Janata Dal, has taunted at Ashwini Choubey' s statement.

Tejashwi tweeted,
In Bihar, most areas of the city are submerged in floods. Roads have turned to sea. The outbreak of nature has caused panic all around.
The incessant rains in Bihar have severely affected normal life. Water is seen in most of the houses, streets and streets of the low-lying areas of the capital Patna. It has become difficult for people to leave the house. The situation is the same in other parts of the state. Rail traffic, health services, schools, colleges and offices have been affected. Power supply is interrupted. The Meteorological Department said that the monsoon is still active in Bihar. A rain alert has also been issued here today.
Chief Minister Nitish Kumar held a meeting in the night in view of the devastation caused by the rain. Chief Secretary Deepak Kumar, Director General of Police Gupteshwar Pandey and Principal Secretary of Disaster Management Department Supriya Amrit were present in the meeting. Arrangements are also being made to provide clean drinking water. Community kitchens are also being run in flood affected areas. "