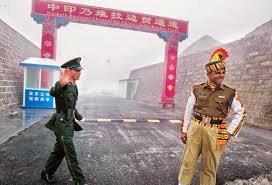 Indian Army will reach Doklam
New Delhi, Sept.03 : Due to the Bheem Base-Dokala Road built by the Border Roads Organization (BRO), it has now become easier for the Indian Army to reach Doklam Valley than before. Earlier, Indian soldiers had to climb the hill track to reach Doklam. It used to take 7 hours, but after the road is built, the Indian Army will reach the Doklam border in just 40 minutes.

The armies of India and China came face to face in the Dokala valley itself. After this, there tension prevailed between the two countries for 73 days. After mutual negotiations, the crisis averted and the forces retreated. There is also Chumbi Valley of China in Doklam itself. Here Bhutan and India borders are also found.
It is being said that the construction of the road in Doklam can change the military equations between the two countries. BRO(Border Roads Organisation) was given permission to construct this road in 2015 itself. At the time of the Doklam dispute, it took seven hours for Indian soldiers to reach here. After this, emphasis was laid on road construction. The BRO has said that it has finished construction of the road leading to the Dokala base. This road enters the Doklam Valley close to Sikkim. This road is suitable for all seasons. Any weight can be carried through this road.
A senior army officer said that the completion of this road will make it easier to send troops from one place to another and send military help. At the same time, the BRO said that this road will speed up the military preparedness of India by any action of the enemy country. The BRO has so far completed construction of about 61 such 3434 km long roads along the India-China border, which are strategically important. Of these, roads up to 2,400 km are all-weather friendly. BRO will complete the construction of 11 Indo-China strategic roads in 2019.