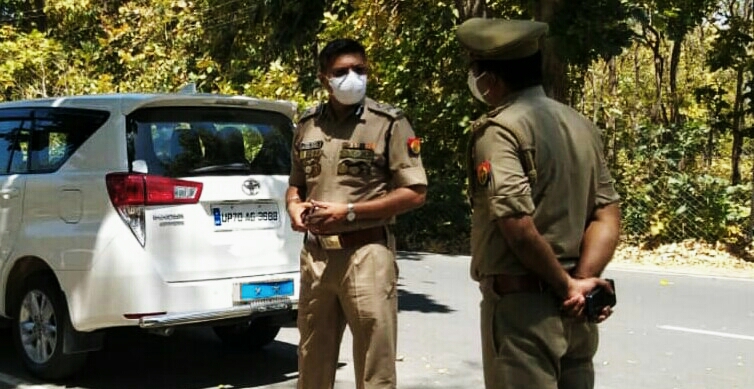 Lucknow, April 10: On the orders of the state government, the Lucknow Police today increased the strictness in the city in order to implement prohibitory orders during the nationwide lockdown in wake of coronavirus on Friday.
In such strict environment, people were seen venturing out on the roads in their four and two wheelers. During this time, the police stopped and challaned those who did not follow the orders of lockdown.
Joint Commissioner of Police ( Law&Order) Naveen Arora came out today for the inspection of 12 hotspots areas- have sealed till April 15- of the city.
JCP Naveen Arora directed policemen at Atal intersection of Hazratganj to deal strictly with those who roam unnecessarily on the road.
Arora during an inspection at Sadar area has stopped and interrogated some people walking in the market.
He asked sanitation workers and those who have COVID-19 pass to leave, on the other hand, instructed others who were wandering without valid reason to follow the lockdown orders.
Apart from this, another hotspot has been marked at the Chowk area of the city, where Inspector Vishwajeet and his team from the Chowk Police station were strictly preventing people to come out during lockdown days. On receiving information of the arrival of the Joint Commissioner of Police for inspection, he immediately increased the strictness.
All roads passing through Kaisarbagh intersection have been barricaded. However, some people were seen defying lockdown orders have been slapped on challan by the Police.
Meanwhile, people prefer to stay indoors to follow lockdown orders.