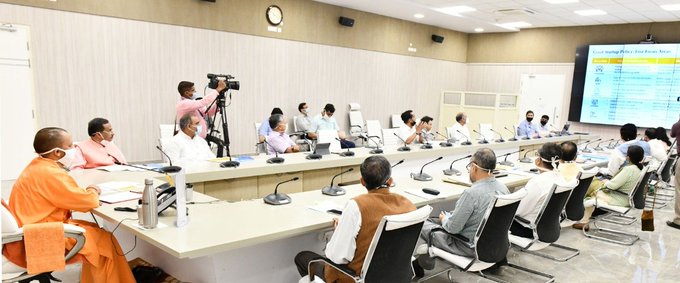 Our intention is good, the ability to make decisions will also have to be fast-Yogi Adityanath
Lucknow, May 20: Chief Minister Yogi Adityanath said that Prime Minister Narendra Modi had said about five years ago that the youth of this country should become job creators and for this the policy of start-ups was brought by the Government of India. As the action plan that the state has started today so in order to implement the plan, Small Industries Development Bank of India (SIDBI) has signed a memorandum of understanding (MoU) with us, I believe that there is a need to expedite these tasks in the state.
CM pointed out that our intention is good, but along with the intention, we have to sharpen our ability to make decisions as well.
Program to boost employment further
The Chief Minister, while transferring the first instalment to (SIDBI) under the 'Uttar Pradesh Startup Fund' on Wednesday, said that the matter had been pending for the last one year. It is most needed today. The program has been taken forward in collaboration with SIDBI in terms of job creation.
Startup will also get new direction from policy
Yogi said that it often happens that we are deprived of giving benefit of those schemes to a large section due to lack of will power to take decisions timely to pursue any good work with the required intensity. Timely decisions and actions taken can give a new direction in the lives of many people. Startups can also become a medium for that new direction through this policy.
He said that three years ago he had interacted with 25 youths of technical institutes of the state, 20 of them had said that if they get support, then they want to take interest in furthering the process of job creation. they had innovative ideas. The government, the department should do the work of turning those possibilities into reality.
UP government bringing new startup policy
The Chief Minister said that he is happy that we have been waiting for the last one year to set up a Corpus Fund in collaboration with SIDBI and we will set up the country's largest incubator centre in the capital Lucknow in Uttar Pradesh, here it has many possibilities. Now our new startup policy is taking form. Under this startup policy, we can motivate more and more youth to kick off their startup here.
Operation of 'Yuva Satrang' scheme for youth
He said that our Technical Education and Vocational Education Department has rapidly pushed forward a new action in the name of 'Yuva Satrang' scheme in Uttar Pradesh. If this corona crisis does not come, then I think it would have proceeded very quickly.
Rs 15 crore provided to SIDBI
The Chief Minister expressed confidence that the MoU under which the amount of 15 crore is being provided to SIDBI through the Government of Uttar Pradesh. SIDBI will be successful in providing timely grants to startups here, setting up new startups and giving opportunities to more and more people in this field.
Set up 10,000 startups in a time limit
The Chief Minister said that from the point of view of startups, we should set up 10,000 startups in a time frame, which has wide possibilities in a state like Uttar Pradesh. Now not only IT and Electronics, but also agriculture, education, health and many other areas in which we can pursue many possibilities. On this, many departments have also put forward their action plans. Many people can get new opportunities through those possibilities.
There can be a solution to the problem of migrant workers
He said that at this time when a large number of migrant workers have turned towards the state, according to their skill, if we provide them an opportunity, then by solving the problem of migrant workers forever, the energy and talent will benefit their state. And can give it to the country.
Youth will benefit from 'UP Startup Fund'
The Chief Minister expressed confidence that through the 'UP Startup Fund' we will be able to motivate more and more youths to establish their own startups in the state and through them help many youth to pursue their jobs and employment prospects here.