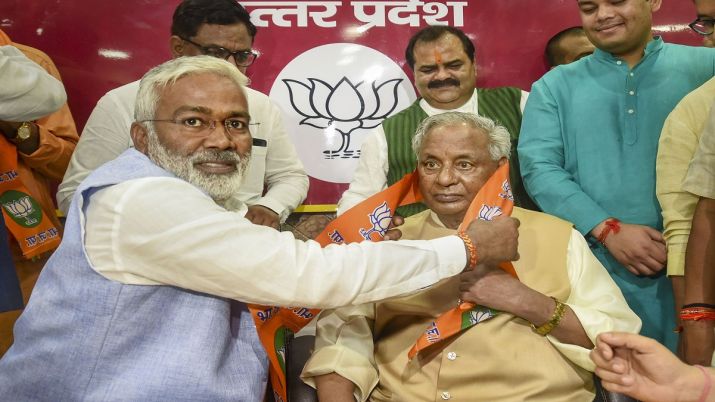 Lucknow,September 09: Kalyan Singh,former  Rajasthan governor, rejoined the Bharatiya Janata Party  here on Monday to  play second innings.He will be the second governor to come back to the party in recent weeks.His re-entry facilitated by state unit chief Swatandra Deo Singh may help the party in forthcoming by-polls and next Assembly elections.
Uttar Pradesh governor Ram Naik whose five-year term was completed last month was the first to re-embrace the party.
Kalyan Singh who headed the BJP government in the state was appointed governor of Rajasthan in 2014 when the party came to power at the Centre. He resigned on the third of this month.
Singh,87, was the chief minister of UP when disputed structure was demolished in Ayodhya by a mob.He has been charged with criminal conspiracy in this connection.He was in the saddle again in 1997.
He has not faced trial because of immunity provided to him under Article 361 of the Constitution.Now,after resigning from the governor's post, that shield has been removed.
Singh has to face trial along with some other senior leaders of the party including L K Advani,Uma Bharti and Murli Manohar Joshi.
The 16th-century structure which had housed a mandir and a mosque in Ayodhya was razed to the ground on December 6, 1992.Taking moral responsibility Singh resigned the same day.

Singh has had a chequered career. He was appointed chief minister of Uttar Pradesh in June 1991.A year and a half later he was out of power( in December 1992).
He did not head the next government formed in the state after removal of President's rule.He came back to power again only to resign and form another party,Rashtriya Krant Party,in 1999.
In 2004 he rejoined the BJP only to leave in 2009.He formed,after leaving another party in 2010,Jan Kranti Party. Neither of the two could achieve much electoral success.
Three years down the line he perhaps realised that leaving the party was a wrong decision and therefore merged his party with the BJP and came back to the fold.
In view of his contributions to the party he was appointed governor by the first Modi government a year later.