Ranchi, 06 May: The Enforcement Directorate (ED) team has conducted raids on 20 locations of senior IAS officer Pooja Singhal of Jharkhand cadre and persons associated with her since Friday morning. Around Rs 25 crore has been recovered from Pooja Singhal's residence.
Apart from this, many papers and documents have also been recovered.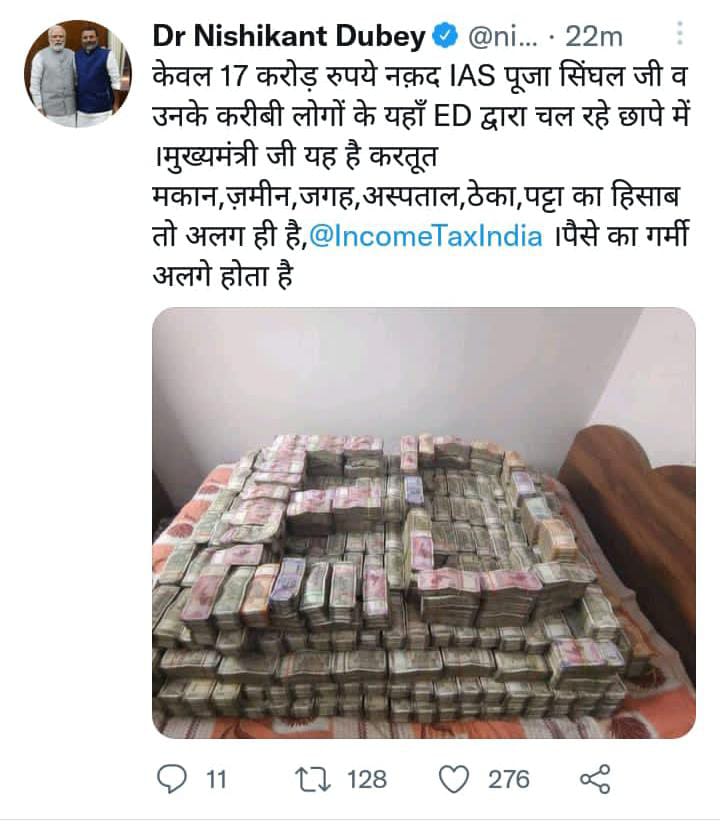 According to the ED, a machine has been called for counting the cash recovered. This money has been received from their chartered accountant. In Ranchi, raids are going on in Block No. 9 of Panchavati Residency, Chandni Chowk, Kanke Road, New Building at Hari Om Tower, Lalpur, Pulse Hospital, Bariatu. Pulse Hospital is owned by Pooja Singhal's husband and businessman Abhishek Jha. Raids are also going on at the official residence of IAS officer Pooja Singhal. During the raid, no one is being allowed to go in and out.
On the other hand, BJP MP from Godda Nishikant Dubey has also given information about getting Rs 17 crore cash from Pooja Singhal's residence by tweeting.
The ED had filed an affidavit related to the information of the entire case on the orders of the Jharkhand High Court in a case of MNREGA scam.
The ED had told the court through an affidavit that at the time of the scam of Rs 18.06 crore in MNREGA in Khunti district of Jharkhand, there was Deputy Commissioner Pooja Singhal.
In this case, the junior engineer Ram Vinod Prasad Sinha was arrested and sent to jail, who had admitted in his statement to the ED that the commission amount used to reach the Deputy Commissioner's office.
The ED had also informed the High Court through its affidavit about the ongoing investigation of both the cases of Chatra and Palamu. It was told in the affidavit that Pooja Singhal was posted as Deputy Commissioner in Chatra district from August 2007 to June 2008.
It is alleged that she had made an advance payment of Rs 6 crore to two NGOs under MGNREGA. These two NGOs include Welfare Point and Prerna Niketan. This amount was allocated for the cultivation of musli, while no such work was done there, which is still under investigation.
Apart from this, while being the Deputy Commissioner in Palamu district, it is alleged that Pooja Singhal had transferred about 83 acres of forest land to a private company for mining. This is a matter related to Kathautia coal mines. The ED had told the court that the investigation in this case is also going on. Along with this, investigation is also being done in illegal mining case.
It is noteworthy that the ED team is conducting raids simultaneously in many states including Jharkhand. The ED is conducting raids at 20 locations including Ranchi, Khunti in Jharkhand, Jaipur in Rajasthan, Faridabad and Gurugram in Haryana, Kolkata in West Bengal, Muzaffarpur in Bihar and Delhi NCR.