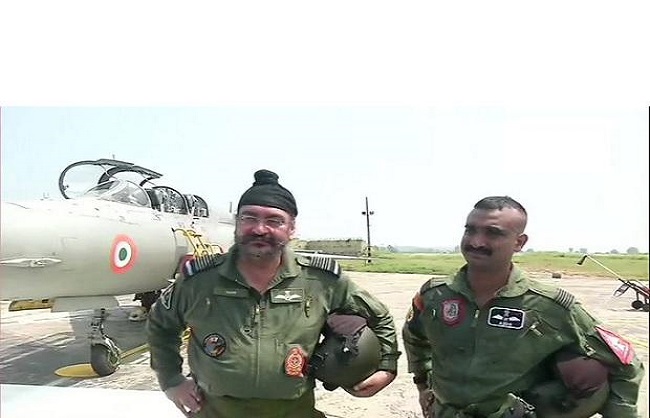 New Delhi, Aug. 02 : Indian Air Force (IAF) Wing Commander Abhinandan Varthaman, Vir Chakra awardee who arrived in Pakistan's captivity after Balakot airstrike, flew into the sky today on board Mig-21 alongwith Air Chief Marshal BS Dhanoa.
The Chief of the Air Force, also a MiG-21 pilot, flew the aircraft during the Kargil War commanding 17 squadrons.
India carried out an air strike in Balakot, Pakistan after more than 40 CRPF personnel were martyred in a terrorist attack on 14 February in Pulwama.
On February 27, Abhinandan crossed the LoC in pursuit of Pakistan's fighter jets which entered the Indian border and neutralised a Pakistani Fighter plane F-16 and his plane was also crashed.
On landing by parachute, he reached Pakistan-occupied Kashmir (PoK) where he was taken in the captivity of Pak army. Despite this, he did not give away secret information related to the Indian Army even after the torture by Pakistan Army, showing the bravery of the Indian soldier.
Later, Pakistan returned Abhinandan safely "fearing India's action". After his return to India, there was suspense on his sortie again. Air Force Chief Dhanoa had made it clear that Abhinandan would fly the aircraft again after undergoing medical fitness.
Abhinandan was approved to fly again by IAF Bangalore's Institute of Aerospace Medicine last month. Before this approval, he was medically examined and passed completely in this test.