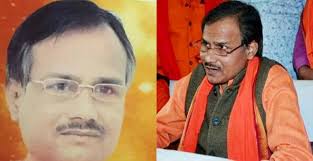 Lucknow, Oct 18 : Kamlesh Tiwari, leader of the Hindu Mahasabha, was strangled in Uttar Pradesh's capital Lucknow. Kamlesh Tiwari died in the trauma center during treatment. The crooks who came to drink tea at the Hindu Samaj Party office in Khurshid Bagh had brought knives in the sweet box.
After executing the incident, the crooks escaped. The police team is searching for the accused with the help of surveillance as well as searching the details of the cell phone.
Kamlesh Tiwari, who was seriously injured in the incident, was rushed to the trauma center immediately, where doctors declared him dead. The police have started searching for the attacker and cartridges have been found at the scene. Kamlesh Tiwari has a deep injury on his neck. It is believed that the attackers have attacked the throat with a sharp weapon along with the bullet.
Hindu Mahasabha leader Kamlesh Tiwari gave a controversial statement against Prophet Muhammad in December 2015. There was a lot of ruckus about this, after which Kamlesh Tiwari was arrested for making a controversial statement. He was currently on bail. The Lucknow Bench of Allahabad High Court had recently removed the National Security Act on Kamlesh Tiwari.