Gorakhpur Oxygen Tragedy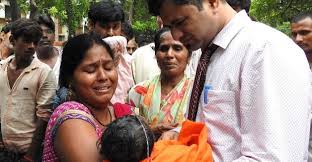 Lucknow/ Gorakhpur, Sep 27 : Dr. Kafeel Khan, suspended in the Gorakhpur Oxygen case, has been cleared of all charges. In August 2017, 60 children died due to lack of oxygen at the BRD Medical College, Gorakhpur, after which Dr. Kafeel was suspended.

The truth was not found in the allegations against Dr. Kafeel after an investigation led by the Principal Secretary, Minerals and Geology Department. According to the report, Kafeel had tried his best to save the children on the night of the incident. In this way, all the allegations against Dr. Kafeel were found to be false. BRD officials gave the report of the investigation to Kafeel on Thursday.
It is known that Kafeel had to spend 9 months in jail for the charge of Gorakhpur oxygen Tragedy . After this he was on the vine. However, they were still suspended. Dr. Kavil also demanded a CBI inquiry into the matter.
In this case, the investigating officer Himanshu Kumar, Principal Secretary (Department of Stamps and Registration) was submitted the report by the Medical Education Department of UP on 18 April. This report said that Kafeel had not acted negligently and that night (10–11 August 2017) had made all efforts to control the situation. According to the report of the investigation, Dr. Kafeel had already tipped his senior officers about the lack of oxygen. Apart from this, it is also mentioned in the report that at that time, Noel Medical Officer of Encephalitis Ward was not in-charge in Kafeel BRD.
Dr. Kafeel Khan has shared a video of himself thanking the people. Citing the investigation report, Kafeel Khan said that the Yogi government has accepted that there was no mistake of Kafeel Khan. Kafeel said that it is not his fault in the whole case and the same thing has been said in the investigation report, while he was presented as a villain. Kafeel Khan has talked about his behavior in the last 2 years and thanked the people of the country for standing together. At BRD Medical College in Gorakhpur, 60 children died in five days due to lack of oxygen. 9 people including Dr. Kafeel were accused in this case.