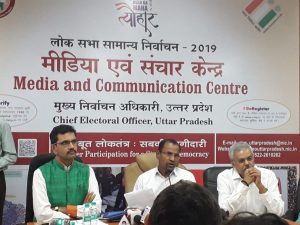 Lucknow:  Chief Electoral Officer of Uttar Pradesh L Venkateshwarlu on Wednesday informed that more than 1.52 crore voters will cast their votes on Thursday in eight parliamentary constituencies of 10 districts of Western Uttar Pradesh in the first phase of Lok Sabha elections.
Talking to the media persons, CEO confirmed that all necessary arrangements have been made for the free and fair election wherein 1, 52, 68,056 voters will use their voting rights. Out of this, 83, 27,469 are male voters whereas 69, 39,761 are females. 826 are third gender voters.
L Venkateshwarlu said that 22,741 voter verifiable paper audit trail [VVPAT] electronic voting machines[EVM] will be used at all the polling centers in all eight parliamentary constituencies of Western Uttar Pradesh to ensure smooth conduct of election.
"1581 digital cameras have been installed at various polling booths where 816 video cameras will be used for the video recording of the polling process. However, this time polling process can be seen by 1741 live webcasting," said CEO.
"To keep an eye on the election code of conduct and polling, The Election Commission has deployed 143 model code of conduct[MCC], implementation team, 434 statistical surveillance team and 434 flying squads" added chief election officer.
Total numbers of candidates fighting Lok Sabha elections are 96. Out of this, female candidates are 10.
Eight parliamentary constituencies where polling is scheduled are Saharanpur, Kairana, Baghpat,Ghaziabad, Gautambudh Nagar, Meerut, Bijnor and Muzaffarnagar.
While in the first phase of polling, 75,368 polling staff has been deployed, on the other hand, 3263 light vehicles and 3611 heavy vehicles will be used for the elections.
While the voting time will start from 7 am to 6 pm.
Maximum number of 27, 26,132 voters are in Ghaziabad constituency and lowest number of 16, 05,254 voters are in Baghpat constituency.
Talking to the newsmen, L Venkateshwarlu assured the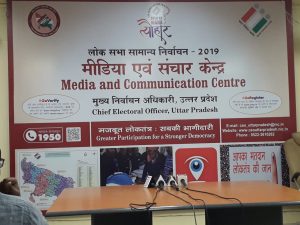 free and fair conduct of first phase of elections. "To conduct free, fair and peaceful elections, adequate numbers of paramilitary forces and Provincial Armed Constabulary [PAC] have been deployed," he added.