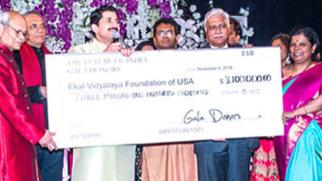 New York, 03 December: How excited American entrepreneurs are for the 'Ekal Vidyalaya' campaign, being run to raise education for every child in every village of India, from a recent musical program held in New York. Interestingly, by this musical evening  a total amount of 31 lakh dollars (about twenty two crore rupees) was collected. With this money, 25 thousand rural children of 800 schools in India will get an opportunity to enter the school, who have not reached the threshold of school due to poverty.
Talking about the 'Ekal Vidyalaya Foundation(EVF)' campaign, an NGO established in 1986 in Gumla district of Jharkhand by the Rakesh Popli, a US-returned Indian nuclear scientist and his wife Rama Popli, a child education specialist.
However, now there are one lakh such schools of Ekal Vidyalaya in India. Prime Minister Narendra Modi and President Ram Nath Kovind on February 26 2019 awarded the 'Gandhi Shanti Puraskar' to the Eklavya Trust in the capital for the promotion of education in rural and tribal areas for the year 2017.
The ceremony began with Guru Vandana at the event held in the grand 'Gatham' campus in New York. Announcement was made amid applause.
The chairman of the function, Mohan Wanchoo, had said that he would give one million dollars i.e. Rs 7.25 crore for 800 single schools in India for the next five years. In these 800 schools, 25 thousand students will be able to move forward for a new future. Adding to this number, about 27 lakh children will now get free education in a single school. Under this campaign, only one teacher in a school in a village, who teaches children in his local dialect, through stories and stories.
The ceremony was also attended by Pradeep Goyal, president of the specially invited Ekal Vidyalaya Abhiyan from India (brother of Commerce Minister Piyush Goyal), Ekal Vidyalaya Trustee SK Jindal and film actor Vivek Oberoi. Vivek Oberoi was shocked to see Riya, a 13-year-old girl, walking towards the stage. Riya was moving towards the stage to give her accumulated capital of one thousand dollars for the education of girls of her age in India. Seeing this, Vivek Oberoi became emotional. He said with a full hug, "Come, let us all cheer up this girl." After that, Batham Hall stood up one by one, and inspired by the unique contribution of Riya, the trend people showed In a few minutes, 31 thousand dollars were collected. Then what was left. As if she went on to name those rural children of evening India.
Many couples who took the initiative for the expected improvement in the 'condition and direction' of Indian villages were invited to the ceremony. These were all those people who, in their own way, were supporting various projects in Indian villages. Among them, Kavita Navani (Sankalp), Himanshu Shah (Gramothan Risors Center), Adish-Asha Jain, Vandana-Vivek Sharma (Integral Village Development) and Subra-Anu Dravid (Single-On Wheel) etc. appreciated and supported the single school campaign Gave. Sanjoy entrepreneurs Raju Reddy, Reggie Thomas, America Ekal Vidyalaya head Suresh Iyer were present at the event. New York Consulate General Sandeep Chakraborty and New York MP Karoline Maloney also attended the event.