News Posted on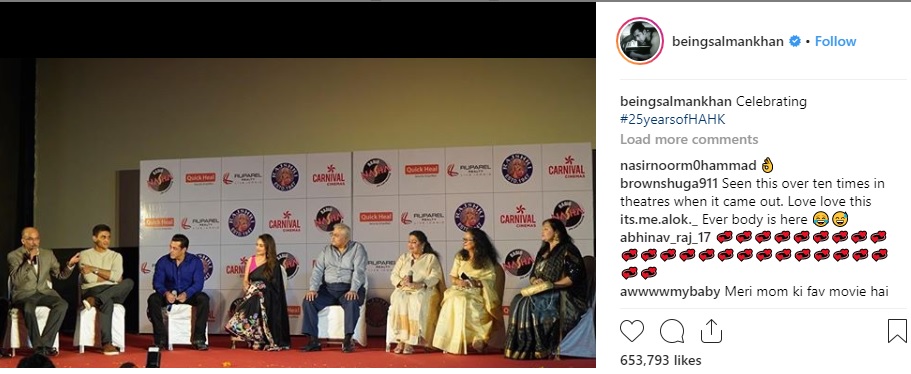 Mumbai, Aug.10: The film 'Hum Aapke Hain Kaun', released in 1994, has recently completed 25 years. A screening of the film was held on this occasion. People associated with the film, including the star cast of a grand event in Mumbai, arrived and celebrated the occasion.

During this, Madhuri Dixit wore a floral print black saree and Renuka Shahane wore a red color saree. Salman Khan appeared in black pants with a blue shirt. During this time, director Suraj Barjatya, Renuka Shahane with her husband Ashutosh Rana, actor Mohnish Behl with her family, actress Bindu and other celebrities were also seen.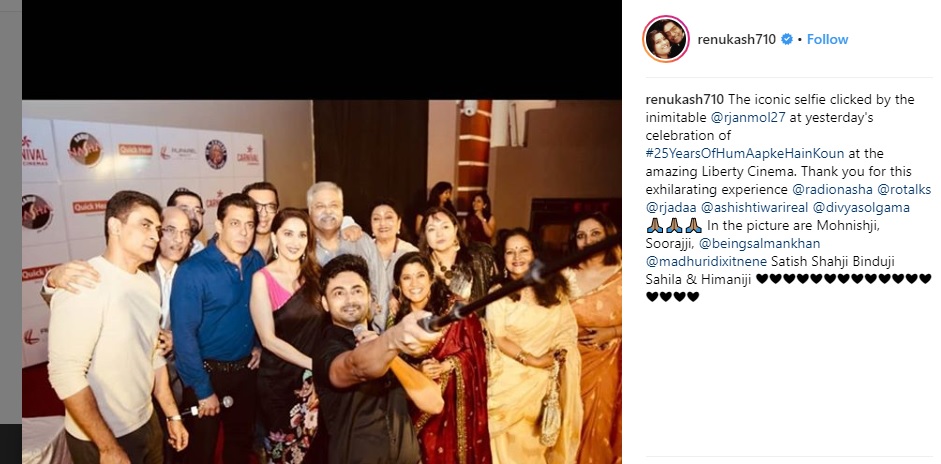 The film starred Salman Khan and Madhuri Dixit in the lead roles. Directed by Sooraj Barjatya, the film was produced by Rajshri Productions. The film 'Hum Aapke Hain Kaun' was a remake of the 1982 film 'Nadia Ke Paar'. In the film Hum Aapke Hain Kaun, apart from Salman- Madhuri, Renuka Shahane. While sharing a photo, Bollywood actor Salman Khan wrote – Celebrating 25 years of the film 'Hum Aapke Hain Kaun'.
Madhuri Dixit also shared some photos of this celebration on social media. She shared the photo with the girl. # 25years of hum aapke hain koun In the film, Salman's sister-in-law and Madhuri's sister actress Renuka Shahane also shared a photo on Instagram account. She wrote- Selfie taken in joy of completing 25 years of the film 'Hum Aapke Hai Kaun'. Thank you all.
Recently, on the completion of 25 years of the film, Madhuri Dixit has given a slingshot challenge to her fans on social media. Madhuri says, 'Hi, I am your Nisha. Celebrating the completion of 25 years of Hum Aapke Hain Kaun. On August 5, on the completion of 25 years of the film 'Hum Aapke Hain Kaun', Anupam Kher shared a few posters of the film on Twitter and wrote 'I love you' to the iconic film 'Rajshree, Sooraj Badjatya and everyone (including me)' Congratulations on completing 25 years. The film also changed the concept of marriages in India forever. # 25YearsOfHumAapKeHainKoun.
How useful was this News?
Click on a star to rate it!
Average rating / 5. Vote count: