New Delhi: Prime Minister Narendra Modi along with Bharatiya Janta Party [BJP] president Amit Shah released party's 'Sankalp Patra' [ Letter of Resolution] or the manifesto for the upcoing Lok Sabha elections in the presence of top BJP leaders like External Affair Minister Sushma Swaraj, Union Home Minister Rajnath Singh and Union Finance Minister Arun Jaitely.
Union home minister Rajnath Singh, along with other 13 members of the BJP, headed the manifesto committee to decide the roadmap of the New India.
The Sankalp Patra aims at the zero-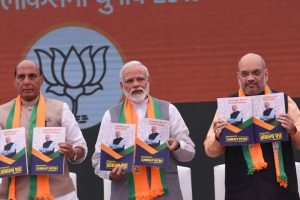 tolerance to terrorism, nationalism, Citizenship Amendment Bill in NE, construction of Ram Mandir, to bring simultaneous elections across India, annulling of article 35A of the Constitution, drafting the Uniform Civil Code.
In the manifesto, BJP said it will give 33 percent reservations to women in the Parliament and state assemblies, Kisan Samman Nidhi Yojna to all farmers irrespective of size of land, 100 lakh crore investments in infrastructure by 2022.
BJP aims at fulfilling 75 pledges of the manifesto by 2022 when India celebrates its 75 Independence Day.  India will be $5 trillion economy by 2025 and $10 trillion by 2032.
Focussing on the trader's interest, National Traders Welfare Board will be established as promised in the manifesto. Also 10 lakh Rs accident insurance will be given to the traders registered in Goods and Services Tax [GST].
Speaking at the event, Prime Minister Narendra Modi said that NDA government is fully dedicated to the nation. "My government is committed to good governance," he said.
"My dream is to make India a developed nation. However, the foundation for the dream will be visible in coming five years between 2019 to2024," PM said.
BJP president Amit Shah said that BJP's 'Sankalp Patra' will meet all the expectations of every citizen of the country