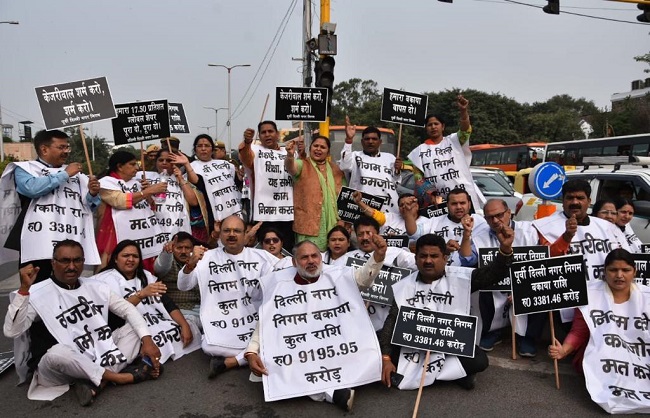 New Delhi, 28 November: Bharatiya Janata Party (BJP) councilors of North, East and South Delhi Municipal Corporations took out a protest march on Thursday in protest against the Delhi government stopping the fund of the corporation. The march started from the Civic Center and ended at ITO. After this, BJP councilors protested at ITO for about two hours, which was led by Delhi BJP General Secretary Rajesh Bhatia.
The protesters shouted slogans of 'Kejriwal shame, release funds of corporations' demanding Rs 9195.95 crore from the state government with placards in their hands. The delegation of protesters then went to present the memorandum to Chief Minister Arvind Kejriwal. The delegation included State General Secretary Rajesh Bhatia, North Delhi Standing Committee Chairman Jayaprakash, South Delhi Standing Committee Chairman Bhupinder Gupta and East Delhi Standing Committee Chairman Sandeep Kapoor, Leader of the House Tilakraj Kataria, Nirmal Jain and former Standing Committee Chairman Shikha Rai.
Addressing the protesters, Rajesh Bhatia said that the Kejriwal government is bent on paralyzing corporations like Sheila Dixit government. Kejriwal's anti-Dalit face has come to the fore by stopping the arrears of the local area head, plan head, non-plan head and cleaning staff of the corporation. He said that the employees of the corporation's schools, hospitals, dispensaries are facing a lot of trouble due to the Kejriwal government's withholding of funds.
Jayaprakash said that the Kejriwal government is anti-people, that is why it has blocked the fund of the corporation.
Bhupendra Gupta said that till the Kejriwal government does not release the funds of MCD, we will continue to carry out such march.