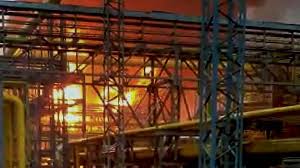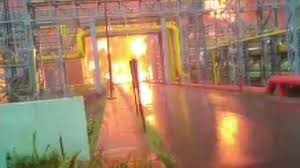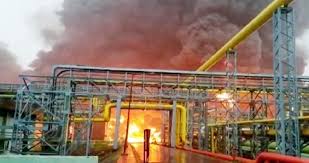 Ambuj Tripathi
Mumbai, Sep 03 : A fire broke out in storm water drainage, today morning in Uran oil & gas processing plant. ONGC fire services & crisis management team immediately pressed into action. Fire is being contained. No impact on Oil processing. Gas diverted to Hazira Plant. This is a major setback for ONGC. The death toll in the fire reached 7, including 5 ONGC employees, while two firefighters. Two people are injured right now.
ONGC told on twitter that ,A fire broke out in storm water drainage early morning 2day in Uran oil & gas processing plant.ONGC fire services & crisis management team immediately pressed in2 action. ONGC told via Twitter that the fire has been completely controlled. Fire is being contained. No impact on Oil processing.Gas diverted to Hazira Plant. Situation is being assessed.
Navi Mumbai Police Commissioner Sanjay Kumar said that Level-3 fire erupted from the plant's water drainage system. Three CISF fire unit personnel are among the dead. One is an employee of ONGC. The cause of the fire has not been known. At the same time, ONGC tweeted that the supply of gas from the plant has been stopped. It has been diverted to the Hazira plant. As a precaution, the surrounding area is being evacuated.
Maharatna company ONGC is the largest crude oil and natural gas company in India. It has 3 plants and 13 process complexes across the country including Navi Mumbai. It owns a 25 thousand kilometer long pipeline, which it operates by itself. It has 6.6 times longer pipeline than NH 44 (Srinagar to Kanyakumari), the longest highway in the country.
The total market capitalization of the company is around Rs 1.551 lakh crore. ONGC contributes about 73% of Indian domestic production and produces about 30% of the total requirement of crude oil.
This largest natural gas company ranks 11th among global energy majors (Platts). It is the only public sector Indian company to feature in Fortune's 'Most Admired Energy Companies' list. ONGC ranks 18th in 'Oil and Gas operations' and 183rd overall in Forbes Global 2000. Acclaimed for its Corporate Governance practices, Transparency International has ranked ONGC 26th among the biggest publicly traded global giants. It is most valued and largest E&P Company in the world, and one of the highest profit-making and dividend-paying enterprises.
ONGC has a unique distinction of being a company with in-house service capabilities in all areas of Exploration and Production of oil & gas and related oil-field services. Winner of the Best Employer award, this public sector enterprise has a dedicated team of over 33,500 professionals who toil round the clock in challenging locations.
ONGC Videsh is a wholly owned subsidiary of Oil and Natural Gas Corporation Limited (ONGC), the National Oil Company of India, and is India's largest international oil and gas Company. ONGC Videsh had total oil and gas reserves (2P) of about 711 MMTOE as on April 1, 2018.
ONGC Videsh has participation in 41 projects in 20 countries namely Azerbaijan, Bangladesh, Brazil, Colombia, Iraq, Israel, Iran, Kazakhstan, Libya, Mozambique, Myanmar, Namibia, Russia, South Sudan, Sudan, Syria, United Arab Emirates, Venezuela, Vietnam and New Zealand. ONGC Videsh maintains a balanced portfolio of 15 producing, 4 discovered/under development, 18 exploratory and 4 pipeline projects. The Company currently operates/ jointly operates 21 projects.
ONGC has discovered 6 out of 7 oil and gas producing basins in India. The largest company in India has set up 8.70 billion tonnes of hydrocarbon reserves. It has produced 3.2 million metric tonnes (mmt) of crude oil and 645 billion cubic meters (bcm) of natural gas from domestic acreage, oil deposits.
This company has the largest share of hydrocarbon acres in India (61 percent in PEL fields and 81 percent in ML areas). ONGC has about 10 per cent of the total Indian processing capacity.